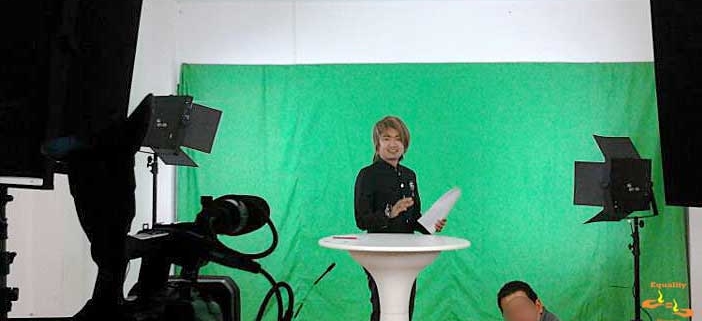 Rainbow editor group (15th February) – In 2012, the Colours Rainbow group will continue to broadcasts television programs, with a variety of topics covered in each month's program. The first program of 2012 can be watched online.
The Colours Rainbow group, a Chiang Mai based LGBT rights activist group, started Rainbow TV programs in late 2011, and broadcast programs bi-monthly. This has now changed to monthly broadcasts.
This month the program includes international LGBT news, a documentary about the transgender day of remembrance ceremony organized by the Burmese LGBT community, an interview with Naomi (who is transgender and LGBT rights activist from the Philippines) and interesting news about the most attractive female-to-male transgender person. Moreover, the LGBT song named "Lu Maung", which is about the tragic story and emotions of a young homosexual man from a village in Burmese society, was also broadcasted in this month's program.
Currently, there are four episodes of Rainbow TV already broadcast. The programs can be watched on http://tvnews.colorsrainbow.com. You are welcome to send feedback and comments, news about LGBT, articles, stories, songs, footage and documentaries, and movies to clrburma@gmail.com.
The intention of the Rainbow TV program is to spread international LGBT news among both local and international Burmese communities, recognize the sexual preferences of LGBT people, and have them legitimately accepted in their communities.
In addition, the TV program can be watched on the Colours Rainbow facebook page and main website, www.colorsrainbow.com.
https://equalitymyanmar.org/wp-content/uploads/2021/01/news67.jpg
336
702
EqualityMM
https://equalitymyanmar.org/wp-content/uploads/2021/01/eqmm-weblogo.jpg
EqualityMM
2012-11-19 12:03:00
2021-01-22 12:03:59
Broadcasting Rainbow Television program, including LBGT news, entertainment and interviews.