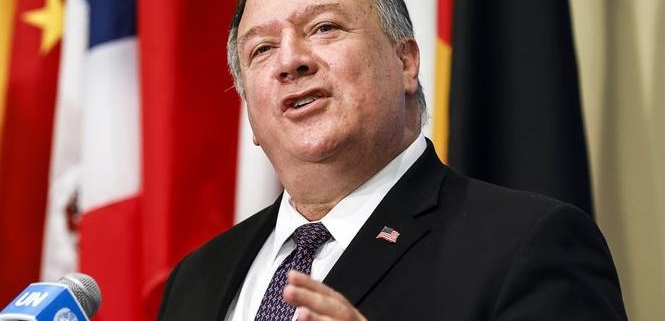 Global human rights experts were alarmed by Secretary of State Mike Pompeo taking his re-envisioning of human rights to the 75th United Nations General Assembly.
The General Assembly was held virtually in mid-September due to the global pandemic.
European Union leaders, who approached Pompeo's meeting with skepticism, did not embrace the U.N. virtual side event September 23. The New York Times reported that European diplomats would not go on the record to raise their concerns in fear of alienating the United States.
Pompeo's speech was supposed to celebrate the long-standing Universal Declaration of Human Rights but instead he promoted his Commission on Unalienable Rights that is filled with anti-LGBTQ members and people against contraception and abortion.
Louis Charbonneau, the United Nations director at Human Rights Watch, told the Times that human rights efforts are "moving backward."
"It's returning us back to some kind of 'Leave It to Beaver' world where the international protections against racial discrimination, against discrimination against women, people with disabilities and LGBT people don't exist," Charbonneau said.
Human rights advocates fear the potential impact Pompeo's commission and report might have on human rights, especially LGBTQ and women's rights. They expressed concern about how dictators might use the report to devalue human rights.
It is a part of the steady march Pompeo has led to roll back LGBTQ rights gained under former president Barack Obama's administration, which blazed a path for LGBTQ rights internationally.
Pompeo has not allowed U.S. embassies to fly Pride flags, has promoted anti-gay officials at the State Department, and refused to recognize LGBTQ rights at the global level. Instead, he has promoted religious freedom, particularly with the conservative-stacked Commission on Unalienable Rights that he formed last year.
Leading up to the General Assembly, Pompeo touted the findings that the definition of human rights is bloated and needs to be slimmed down or prioritized.
Human rights advocates denounced the report in August when it was released.
Mark Bromley, chair of the Council for Global Equality, has watched the steady progression of anti-LGBTQ efforts at the State Department during the last three years and believes the movement appears to be, "coming to a head in a number of different places," he told Mother Jones magazine.
Leaders of the Council on Global Equality, Human Rights Watch, Amnesty International, Equity Forward, and Human Rights First attempted to stop the General Assembly event from happening and lobbied U.N. heads of state not to attend the meeting.
But Pompeo and U.S. Ambassador to the U.N. Kelly Craft opened the panel discussion "Promoting and Protecting Human Rights: A Re-Dedication to the Universal Declaration of Human Rights."
Pompeo introduced the virtual panel discussion, calling upon U.N. member states in the meeting to "rediscover the nature of human rights" and encouraging them to defend those rights, calling it "vital work."
The panel discussion was moderated by Robert Destro, assistant secretary of state for Democracy, Human Rights, and Labor.
Panelists were Mary Ann Glendon, Yahya Cholil Staquf, and Hu Ping.
Glendon is head of Pompeo's commission and is a former U.S. ambassador to the Holy See. She served on the U.S. Commission on International Religious Freedom and the U.S. President's Council on Bioethics. She is an emeritus Harvard Law professor and is author of "A World Made New: Eleanor Roosevelt and the Universal Declaration of Human Rights," among other books.
Staquif is the general secretary of Indonesia's Nahdlatul Ulama Supreme Council, the largest Muslim organization in the world.
Ping is a pro-democratic China advocate and editor of Beijing Spring.
Myanmar's gay parliamentary candidate wants to end discrimination
Myo Min Htun, Myanmar's first openly gay candidate to run for parliament, wants to end discrimination against LGBTQ people, at least in his region.
The 39-year-old People's Pioneer Party candidate for the Mandalay regional parliament hopes to protect LGBTQ people in his region if elected in November.
Mandalay is Myanmar's second-largest city with 1.2 million people and the capital city of the region's namesake.
A native of Mandalay, Myo Min Htun wants to represent the Aung Myae Tharzan township, where he lives and is a florist and wedding planner.
LGBTQ rights have not been a platform in past elections, but for the first time some political parties have placed LGBTQ issues on their platforms this year, reported Radio Free Asia.
Myanmar's general election is November 8.
Times are changing for Myanmar's LGBTQ community. There has been growing acceptance of the LGBTQ community in the conservative Buddhist country during the past five years, Aung Myo Min, executive director of Equality Myanmar, told RFA.
The National League for Democracy, the Myanmar National Congress Party, the Shan Nationalities League for Democracy, and the Union Solidarity and Development Party have included some mention of LGBTQ rights on their campaign platforms.
However, he does not believe people are ready to elect an openly gay man to office.
"People can accept LGBT people as friends, but we need to take two more steps for the public to accept them as government leaders or MPs to represent them and their township in parliament," he told Myanmar Now.
Nearly 7,000 candidates from more than 90 parties are running for legislative seats.
PPP is a new political party sprung out of the ruling NLD in October 2019. The party has more than 200 candidates running for parliamentary seats in regional and state elections, reported RFA.
LGBTQ activists have campaigned to strike down discriminatory laws for years but have not gained much traction.
British colonial era anti-sodomy law Section 377 is still in Myanmar's penal code. People convicted face fines and 10 years to life imprisonment. Reserve and special police use Sections 30 and 35 of the police act to arrest alleged thieves and people carrying weapons, according to Myanmar's Police Act, 1945, to harass the LGBTQ community, Aung Myo Min, executive director of Equality Myanmar, told RFA.
LGBTQ people are harassed, attacked, and arrested by authorities under these laws.
Gender identity and transgender people are not legally recognized.
Police officials denied accusations in 2013 from a group of gay men and transgender women claiming authorities were arbitrarily arresting, beating, and verbally abusing them, reported RFA.
"People know the value of water only when they feel thirsty," Myo Min Htun told Myanmar Now.
"Only LGBT people know about the lack of LGBT rights, the problems with the police, and how the police have unlawfully arrested those from the LGBT community. I understand LGBT people because I'm one of them," he said.
Hopes for change have been dashed in the past with politicians drumming up votes by paying lip service to the Burmese LGBTQ community and failing to follow through with promises once in office, Aung Myo Min said.
He pointed to the NLD, which has called to eliminate discrimination against LGBTQ people in its 34-page election manifesto released last month but has done nothing during the party's tenure in power.
For some LGBTQ Burmese, Myo Min Htun is a symbol of hope.
Shin Thant, a transgender LGBT activist, told Myanmar Now she hoped Myo Min Htun's candidacy would encourage more people to come out.
"Other LGBT politicians are still in the closet. This could be the driving force for them to come out openly as LGBT people," she said.
OutRight marks 30 years fighting for LGBTQ rights globally
OutRight Action International marks its 30th anniversary with call to continue fighting for LGBTQ rights globally while safeguarding rights achieved around the world.
The organization marked its pearl anniversary September 23, after the close of the 75th United Nations General Assembly meeting September 15-22 in New York, with the launch of a multi-prong campaign.
OutRight included a video about its three decades of accomplishments, announced its virtual OutSummit December 10-12 and its new OutStanding Legacy Circle, and a campaign for people to share their OutRight story and hopes for the future.
Since its founding by Julie Dorf in 1990 as the International Gay and Lesbian Human Rights Commission in San Francisco, OutRight has evolved into a global leader for LGBTQ rights.
OutRight's fifth executive director, Jessica Stern, has led the organization from its New York headquarters since 2012. She was appointed as interim executive director in 2011. Stern succeeded Cary Alan Johnson and a list of accomplished international LGBTQ leaders including the late veteran civil rights activist, attorney, and law professor Paula L. Ettelbrick, Surina Khan, and Dorf, who ran the organization for a decade.
Dorf is now the senior adviser for the Council for Global Equality based in Washington, D.C. Johnson is currently the country representative for Population Services International in Burundi. Khan is now the chief executive officer of the Women's Foundation of California.
Outright formerly changed its name from IGLHRC when it marked its 25th anniversary in 2015.
OutRight is the first LGBTQ organization to gain special consultative status at the U.N. in 2010.
During its three decades the organization advocated for LGBTQ rights around the world working with heads of state at the U.N. and the U.N. Independent Expert on Sexual Orientation and Gender Identity. It has published countless hard-hitting reports about human rights violations against LGBTQ people around the world based on groundbreaking research by experts working in six different regions. OutRight has worked with LGBTQ organizations on the ground providing leadership and strategic training and funding.
This year, the organization expanded its reach to audiences through its digital platform with OutRightTV (https://tinyurl.com/OutRightTV) and podcast (https://tinyurl.com/OutRightPodcast) shows and its new webinar series OutTalks (https://tinyurl.com/OutTalks), launched last month. The shows and speaking series connect viewers and participants with LGBTQ activists and experts around the world and international queer issues.
Source;https://www.ebar.com/news/news//297684?fbclid=IwAR0k3b9r-jO2ezXpO-UxXskgcJ_bPXfGKHLhLSSrddY93wVtqHzsxWi7QWo
https://equalitymyanmar.org/wp-content/uploads/2021/01/news9.jpg
428
665
EqualityMM
https://equalitymyanmar.org/wp-content/uploads/2021/01/eqmm-weblogo.jpg
EqualityMM
2020-10-05 13:45:24
2021-01-21 13:46:18
Pompeo takes anti-gay campaign to UN