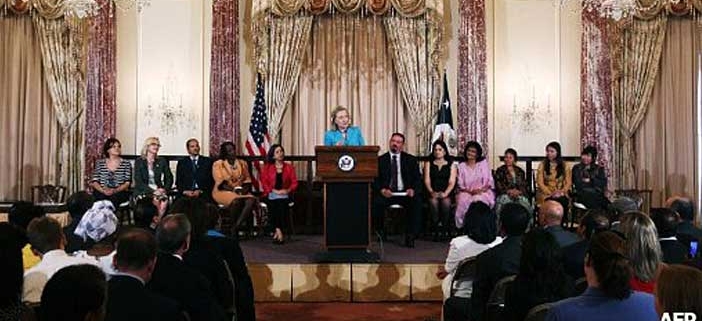 TUESDAY, 28 JUNE 2011
Chiang Mai (Mizzima) – Poverty and unemployment need to be tackled if the Burmese government hopes to turn the tide of human trafficking of Burmese people highlighted in a report by the US government to tackle the 'modern-day slave trade' worldwide.
This is the opinion of Aung Myo Min, speaking for the Human Rights Education Institute of Burma (HREIB), in response to the release of the US government's annual 'Trafficking in Persons' report that claims not enough is being done to curb the misery of the sale of people against their will.
In the report released Monday by President Barack Obama's administration, the State Department identified 23 countries as failing to meet minimum international standards to curb the scourge, which claims mainly women and children as victims. That's up from 13 in 2010. Another 41 countries were placed on a 'watch list' that could lead to sanctions unless their records improve, according to a report by the Associated Press.
Burma is on a blacklist alongside Cuba, Iran, North Korea and Sudan along with Eritrea, Libya and Zimbabwe. Others are US allies in the Middle East like Kuwait and Saudi Arabia while Papua New Guinea was cited as a repeat offender. Only one country, the Dominican Republic, was removed from the list. The 11 new countries on the blacklist are Algeria, the Central African Republic, Equatorial Guinea, Guinea-Bissau, Lebanon, Libya, Madagascar, Micronesia, Turkmenistan, Venezuela and Yemen, according to AP.
Separately, the report also cited Burma, Chad, Congo, Somalia, Sudan and Yemen for using child soldiers and not taking steps to end the practice.
Aung Myo Min told Mizzima that while the Burmese authorities have been cited in the US report, they have not been sitting idle. Figures compiled by the now-defunct State Peace and Development Council (SPDC), show they brought forward more than 500 human trafficking cases in 2010.
'According to our survey, that is a very small number compared to the actual number of crimes', he said. 'Some illegal groups are still conducting human trafficking without being arrested. Anyway, we need to refer to the government's figures because they can directly investigate crimes'.
The Burmese authorities admit there were more cases of human trafficking. 'As far as we know, they [the Burmese government]especially focused to crack down along the Sino-Burmese border. Meanwhile, we know that some illegal groups are selling people to Thailand and Malaysia'.
Aung Myo Min said according to the estimate of a Mae Sot-based Burmese NGO working to end child trafficking, about 100 Burmese children are sold to Thailand every month.
He said the Burmese government was cooperating with China. 'Despite their harder effort, the problem has become bigger. In the past, the human trafficking only took place in border areas. Now, human trafficking is more economic and the groups are cooperating in conducting human trafficking'.
Aung Myo Min said that in this regard, 'the government's effort is just a drop in the ocean under these circumstances'.
Human trafficking is a difficult problem, he said. 'The causes of the crime are poverty, current situations, and government's poor policies which lead to poverty. Poor education and scarcity of jobs are also at the root of the problem'.
Just cracking down is not enough. 'In addition to the crackdown on human traffickers, the government needs to frame good policies to solve the problems including poverty and scarcity of job opportunities because they are also the causes. Only cracking down on the traffickers will not result in success'.
According to a Naypyitaw-based government official, who is involved in efforts to crack down on human trafficking, victims have been traficked to Thailand, China, Indonesia and Malaysia. Seven people were sent to Timor Leste last year, he told Mizzima.
In response to the US report, Republican Representative Chris Smith, an author of the law that established the report and offered protection to trafficking victims, said he was 'deeply disappointed' that China was given a political waiver despite its continuing and expanding problem of human trafficking, particularly sex-trafficking of women and girls.
'This political waiver for China is totally unacceptable', Smith said, according to AP. 'The Obama administration has again abandoned trafficking victims in China, who are predominantly women. It's shameful'.
US Secretary of State Hillary Rodham Clinton, who has met victims of trafficking first-hand and been moved by their stories, said to mark the publication of the report that all countries can and must do more, according to AP. 'More human beings are being exploited today than ever before'.
Photo : AFP
https://equalitymyanmar.org/wp-content/uploads/2021/01/hr-n135.jpg
336
702
EqualityMM
https://equalitymyanmar.org/wp-content/uploads/2021/01/eqmm-weblogo.jpg
EqualityMM
2011-06-28 16:01:52
2021-01-22 16:02:40
US raps Burma, others for not doing enough to end human trafficking