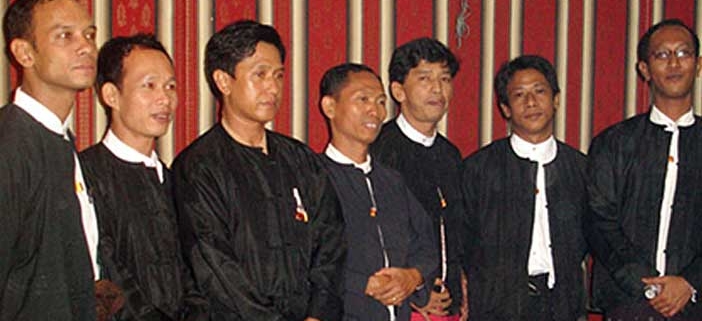 TUESDAY, 11 OCTOBER 2011
The Irrawaddy – Burmese state-run TV announced on Tuesday that 6,359 prisoners will be released from prisons across the country as from Wednesday, but there was no mention of whether political prisoners will be included.
MRTV announced that, according to a presidential decree, prisoners who are aged, disabled or in bad health, and who have served part of their sentence with good behavior, will be given priority "by the order and the amnesty of the Burmese Union government."
Although the media did not provide any more detailed information about the 6,359 prisoners to be set free, sources from the families of several political prisoners told The Irrawaddy that they believe around 600 political prisoners, including prominent figures Min Ko Naing, Ko Ko Gyi, Htay Kywe and Pyone Cho, will be among those released.
An official from the Ministry of Home Affairs, who spoke to The Irrawaddy on condition of anonymity, said that he had been informed that less than 1,000 political prisoners will be released.
Win Maung, the father of jailed 88 Generation Students leader Pyone Cho, said that not many political prisoners will be released, but that he thinks several well-known dissidents, such as his son, will be set free.
Speaking to The Irrawaddy on Tuesday, Win Maung said, "Although the authorities haven't informed us, we are anxiously waiting for him [Pyone Cho] to come back home. He is a political prisoner and we do understand that his release is a very sensitive issue for the authorities. In my experience, sometimes the prison authorities do not inform anyone when a prisoner will be released. Therefore my son could be let out any time."
Pyone Cho is currently serving a 65-year sentence in remote Kawthaung prison in Taninthariyi Division for his involvement in the anti-government uprising in 2007, also known as the Saffron Revolution.
The release of political prisoners has been demanded by rights group and several Western countries for many years as a condition for improved relations and an easing of economic sanctions.
According to the data of the Thailand-based, Association of Assisting Political Prisoners-Burma (AAPP), around 2,000 political prisoners are currently serving their sentences in prisons across the country.
Bo Kyi, the joint-secretary of AAPP, told The Irrawaddy that the announcement is very clear, but that the authorities have not addressed the issue of political prisoners, and many criminals will be among those released.
"The international community and ourselves are demanding the release of the political prisoners. We want the government to identify them as prisoners of conscience and release them. The Burmese government has always said there are no political prisoners in Burma," said Bo Kyi.
An open letter from the state-run rights group Myanmar National Human Rights Commission calling for the release of prisoners of consciences was submitted to President Thein Sein on Monday.
https://equalitymyanmar.org/wp-content/uploads/2021/01/hr-n132.jpg
336
702
EqualityMM
https://equalitymyanmar.org/wp-content/uploads/2021/01/eqmm-weblogo.jpg
EqualityMM
2011-10-11 15:57:37
2021-01-22 15:58:16
Burma to Free 6,359 Prisoners