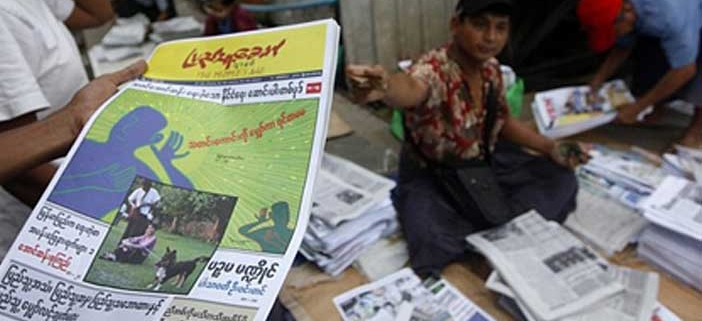 FRIDAY, 14 OCTOBER 2011 THE IRRAWADDY
The Irrawaddy – Last week, Tint Swe, the director of the Press Scrutiny and Registration Division (PSRD), surprised Burma watchers by telling the Washington-based Radio Free Asia that the notorious censorship board he heads should be abolished as part of the country's moves toward reform.
"Press censorship is non-existent in most other countries as well as among our neighbors, and as it is not in harmony with democratic practices, press censorship should be abolished in the near future," he said.
Tint Swe's remarks have raised hopes that a new era of press freedom could be coming to Burma in the near future. Below is a sampling of responses to his comments from some leading members of the country's media community.
Ko Ko, CEO of the Rangoon Media Group
I welcome U Tint Swe's comment that there shouldn't be a censorship board. Without censorship, we can work freely, as long as we stay within the bounds of ethics and journalistic integrity. We will have to take responsibility for what we write, but we won't have to worry if we respect the law and the principles of journalism.
If there's a new media law, more daily newspapers will be published. Actually, daily newspapers are necessary for the country to achieve democracy. Without a strong fourth pillar, the other three pillars of society will lack support. Burma needs more privately owned media, because unlike the state-run media, it is free.
Thiha Saw, chief editor of Open News Journal and Myanma Dana Economic Magazine
I think getting rid of censorship is a very good idea. There will be a lot more freedom, but we will still have our responsibilities. We've also heard that the government has started working on a new media law, but we don't know yet what it will entail.
Maung Wun Tha, editorial adviser to Pyithu Khit Journal
I think it's very good news for journalists and people in the media community. Of course, there will definitely be some challenges and difficulties if we change from the current system to a new one. But we will never achieve anything if we just worry about this and cling to the old system. The main thing is to prepare for and face the challenges. The more daily newspapers there are, the better it will be for the people. The newspapers will be able to convey information to the public much more quickly, and it will be easier for the people to offer their criticism than it is now. It is good not to have censorship.
The government will still exercise control over some matters, to prevent publication of anything that violates religious or cultural values, for example. The government will still need to warn or take action against them those who violate these things.
Thaung Htike, CEO of True News Journal
It is good to hear that U Tint Swe has said the PSRD should be abolished. We welcome his words. We also hope that they will come true.
Aunt Min Khaung, assistant editor of the Hot News Journal
It is a very good sign that the head of the PSRD has admitted that there should be no censorship. Everyone wants freedom of press and expression. I think that there will be no censorship in near future.
Photo : Reuters
https://equalitymyanmar.org/wp-content/uploads/2021/01/hr-n131.jpg
336
702
EqualityMM
https://equalitymyanmar.org/wp-content/uploads/2021/01/eqmm-weblogo.jpg
EqualityMM
2011-10-14 15:56:27
2021-01-22 15:57:04
Imagining a Censorship-free Burma