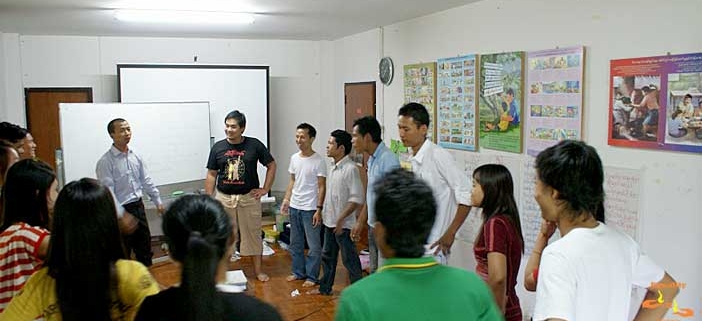 From August 31 to September 8, HREIB conducted a training on peace and conflict resolution for youth from Burma at HREIB's head office in Chaing Mai, Thailand.
The training focused on the relationship between peace and human rights concepts. Participants were trained in conducting community events about peace, which they will use upon returning communities as they prepare to host campaigns on September 21, the International Day of Peace.
The sixteen participants came from six different conflict areas in Burma—Kachin, Karen, Karenni, Chin, Mon and Shan States.
Participants learned about team building dynamics, the core concepts of human rights and peace, the status of peace negotiations in Burma, and the development of campaign strategies, including implementation and reporting. Prior to the session on campaign planning, participants had a chance to meet and discuss with representatives from the Women's League of Burma (WLB), who have experience running campaign events.
The training was led by Jaw Gun from Shalom Foundation, HREIB's senior trainer Aung Zaw Htwe, and staff members Pan Tsun, Monica, and Aung Myo Min. A diverse range of individual and group activities were facilitated.
Participants chose the slogan "No Rights No Peace" for the Peace Day campaigns. The participants will conduct the events in groups based on their locations—six events will be held, one in each of the States represented. T-shirts, stickers, and music albums all promoting the "No Rights No Peace" message will be distributed.
This is HREIB's first peace training session for youth from inside Burma.
The training was funded by Terre des Hommes Germany and the Institut für Auslandsbeziehungen's zivik program.
https://equalitymyanmar.org/wp-content/uploads/2021/01/news58.jpg
336
702
EqualityMM
https://equalitymyanmar.org/wp-content/uploads/2021/01/eqmm-weblogo.jpg
EqualityMM
2012-09-12 11:44:43
2021-01-22 11:45:41
HREIB conducts Youth Peace Training