The 2020 UPR report launching event was held in Yangon on 30 August 2020. The report was prepared by the Burma/Myanmar UPR Forum and will be submitted with the report of the Myanmar Child Rights Coalition to the UN Human Rights Council.
The following issues were covered in the UR report; the ratification and co-operation of international human rights mechanisms, Freedom of expression and assembly, Freedom of religion and belief, Citizenship, Rights of persons with disabilities Armed conflict and peace, Gender issues, Gender issues and sexual orientation/gender identity issues, Human trafficking, Land issues Political prisoners, Arbitrary arrest and torture, Anti-corruption, and judicial system and rights of children. Overall,  There are 11 human rights issues and three child rights issues covered in the UPR Report, as well as recommendations to the Government of Myanmar.
The UPR process is a process in which all UN member states submit reports to the Human Rights Council every four years for review.
The process involves the submission of international recommendations to the country concerned, based not only on government reports but also on civil society reports. Selecting recommendations to be accepted by the country and implementing them in the country.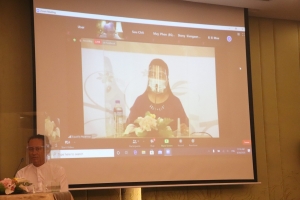 These reports were prepared by the Burma/Myanmar UPR Forum of a 29-member civil society group, and the Myanmar Child Rights Coalition, a 15-member organization.
https://equalitymyanmar.org/wp-content/uploads/2021/01/news14.jpg
516
1078
EqualityMM
https://equalitymyanmar.org/wp-content/uploads/2021/01/eqmm-weblogo.jpg
EqualityMM
2020-08-31 13:58:01
2022-08-04 17:08:53
UPR report launching