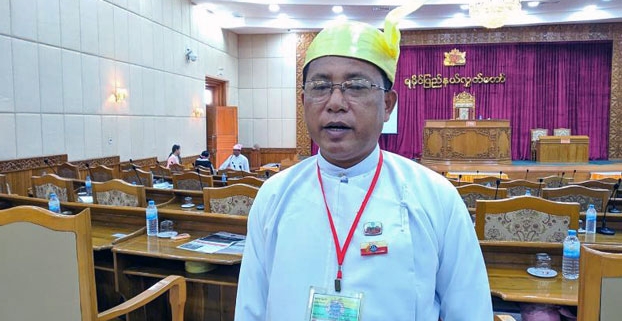 Election authorities in western Myanmar's Rakhine state have rejected a sitting ethnic Rakhine lawmaker's application to run for re-election in November, citing his Myanmar soldier son's 2018 defection to an armed rebel group now at war with government, the legislator told RFA on Monday.
Phoe San, an Arakan National Party (ANP) lawmaker who represents Kyaukphyu township in the state parliament, said district election officials told him on Aug. 22 that he was disqualified because his estranged son, former Myanmar army major Aung Myint Soe, had switched sides to the Arakan Army (AA) two years earlier.
Phoe San's supporters called the ruling unreasonable, noting that he was already serving as a state lawmaker and was out of contact with his son.
The AA, a 7,000-8,000-strong, mostly ethnic Rakhine force, has been fighting the government army for the last 21 months in a quest for greater independence for ethnic Rakhines and to fulfill a long-term goal of establishing its own government in the region that is their historic homeland. In March, the Myanmar government declared the AA an illegal association and terrorist organization.
"They said the Union Election Commission sent a letter to me, but I was not allowed to read the letter," he told RFA's Myanmar Service. "They didn't even tell me letter's registration number. They read the letter out to me."
The letter said that his son, who had enlisted in the army in 2002, deserted in May 2018, and that an investigation found that he joined the AA," he said.
"So they alleged that my candidacy violates Chapter V, Section 10 (n) of the Pyithu Hluttaw Election Law," Phoe San said, referring to one of the two laws regulating elections for Myanmar's parliament. The other law governs elections for upper house members.
The section prohibits a candidate from running in an election if there is credible evidence against him of contact with an organization declared an unlawful association, with a group or individuals that have committed terrorist acts, or an insurgent organization or its members in revolt with arms against the state.
Phoe San said he had lost contact with Aung Myint Soe and was unaware that his son had joined the AA. He was also not aware that his candidacy violated the election law for parliamentarians.
Appeal rejected
The lawmaker said he appealed to the Union Election Commission, the national-level body responsible for overseeing the country's elections and vetting parliamentary candidates, on Aug. 24.
But he received word that the appeal was rejected by the Kyaukphyu District Election Subcommission, noting that the military-controlled Ministry of Home Affairs requested that his candidacy be turned down.
Tin Htun, chairman of the subcommission, declined to comment on the decision.
"The rejection was made by the central government. I cannot say anything," he said.
ANP attorney and spokeswomen Aye Nu Sein said the subcommission's allegation is not reasonable and may not be legitimate because Phoe San is already serving as a state lawmaker.
"The accused person is already serving as a MP for the state parliament," she told RFA. "His son's activities do not invalidate his current term as an MP."
"Our party believes that the election subcommission's decision is not reasonable or legitimate because it is based on assumption or opinion," she added.
Aung Myo Min, executive director of the Yangon-based human rights education group Equality Myanmar, agreed.
"Just because the son has joined the armed group, it does not mean that his father will be a coconspirator," he said, adding that it was unusual for Myanmar's former military regime to persecute or harass relatives of members of insurgent groups.
"But the authorities always assumed that the family members would contact or collaborate with the insurgents," Aung Myo Min said. "This supposition has not changed under the current administration."
"They should be able to show strong proof that the insurgent has a connection with their family members," he added.
Decision is 'very unfair'
Myanmar military spokesman Major General Zaw Min Tun denied that the army was behind the decision to reject Phoe San.
"We were not behind this decision," he said. "The election commission is an independent commission. We didn't even know about the rejection."
AA spokesman Khine Thukha called the decision "unfair."
"It raises questions about the impartiality of Myanmar's laws," he said. "I think this decision to reject the father as candidate because the son has joined the insurgent group is very unfair."
He also noted that under international laws, those who are 18 years of age or older act on their own.
"Their actions should not implicate their parents," Khine Thukha said.
The ANP, which represents the interest of the Rakhine people in the state, has nominated 386 individuals to contest in the Nov. 8 elections.
With Phoe San's rejection, it is now too late for the party to nominate another candidate to run for the parliamentary seat against a contender from the ruling National League for Democracy (NLD).
Nearly 100 political parties have put forward candidates for the Nov. 8 elections, in which candidates are vying for 1,171 seats in both houses of the national parliament and in state and regional legislatures.
Reported by RFA's Myanmar Service. Translated by Ye Kaung Myint Maung. Written in English by Roseanne Gerin.
Source;https://www.rfa.org/english/news/myanmar/lawmaker-disqualified-08312020171115.html
https://equalitymyanmar.org/wp-content/uploads/2021/01/news13.jpg
350
622
EqualityMM
https://equalitymyanmar.org/wp-content/uploads/2021/01/eqmm-weblogo.jpg
EqualityMM
2020-09-01 13:55:46
2021-01-21 13:57:18
Rakhine Lawmaker Disqualified After Son Deserts Myanmar Army For Rebel Force