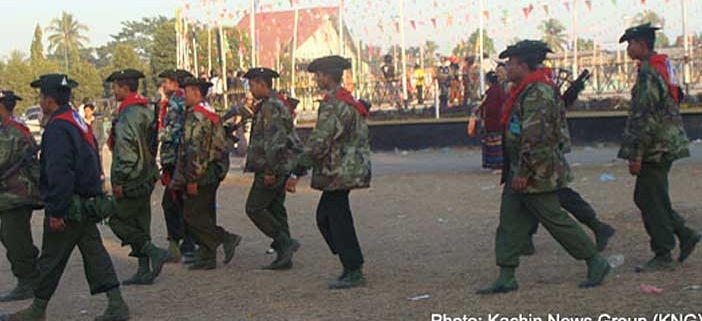 TUESDAY, 12 JANUARY 2010
Human rights abuse on the ethnic Kachin people in Northern Burma have been in evidence by the Burmese junta at the recently concluded 62nd anniversary of the State Day and Manau Festival in the State …
Human rights abuse on the ethnic Kachin people in Northern Burma have been in evidence by the Burmese junta at the recently concluded 62nd anniversary of the State Day and Manau Festival in the State, said a Human Rights expert.
The annual 62nd Kachin State Day was celebrated by ethnic Kachin people in Myitkyina, the capital of the State, from January 5 to 11 with the Manau dance festival. There was overt restriction and disturbance by the junta.
Participants and the Manau Festival committee workers and eyewitnesses have talked about the unsavoury reaction of the regime on events including the publishing of a daily newspaper in Kachin language. It was heavily censored both in terms of news and photographic coverage.
Aung Myo Min, Thailand based Executive Director of the Human Rights Education Institute of Burma (HREIB) told Kachin News Group, this is not a new incident of human rights abuse in the region and on the ethnic people by the junta.
"It is possible to help ethnic people promote their culture only without any interference from the junta," said Aung Myo Min."
"We heard there were many restrictions relating to events. There is no freedom of expression for ethnic Kachin culture. If the junta wants to promote and protect the tradition of ethnic people they should allow freedom," he added.
The local people have condemned the junta's unfriendly attitude towards their culture and rights.
"I didn't see happiness on anyone's face, because of the disturbance by the authorities," said a resident of Myitkyina regarding her experience of the festival.
"We saw many Burmese soldiers around the Manau field making us unhappy. They were checking us at the entrance and we couldn't read the newspaper of the festival like last year," said local youth.
Naypitaw the capital of Burma appointed three agents skilled in speaking, reading and writing ethnic Kachin language, to closely monitor and report everything every day.
"We couldn't find KIO soldiers except some leaders. It is a bad sign for our future and not good for KIO either," said another youth.
Aung Myo Min said human rights violations in Kachin State have been on since war between the Burmese military and the ethnic rebel group the Kachin Independent Army (KIA).
"Before the ceasefire, human rights violations were through porters, forced labour and rapes among the Kachin people by the junta," said Aung Myo Min.
"Human rights violations continue in the region despite peace between KIO and junta through oppression and economic means, restriction on their cultural, religious and social movements," he added.
"Even though we face oppression by the junta, we have to continue to celebrate our State Day with Manau Dance, which is our important to us. We have to try and maintain it," said another participant.
https://equalitymyanmar.org/wp-content/uploads/2021/01/hr-n136.jpg
336
702
EqualityMM
https://equalitymyanmar.org/wp-content/uploads/2021/01/eqmm-weblogo.jpg
EqualityMM
2010-01-12 16:03:23
2021-01-22 16:04:04
Manau festival reveals human rights violation on ethnic people