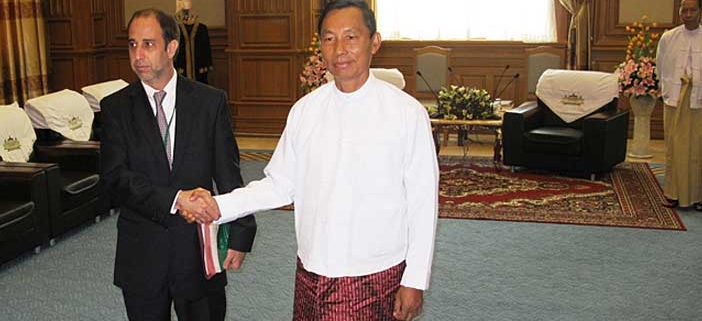 TUESDAY, 23 AUGUST 2011
The Irrawaddy – Discussions relating to the release of political prisoners and the Burmese army's human rights abuses in ethnic areas will be prioritized at an upcoming meeting between a UN human rights envoy and the opposition party, National League for Democracy (NLD), said party spokesman Nyan Win.
UN Special Rapporteur to Burma Tomas Ojea Quintana is now in the Burmese capital Naypyidaw where he is a guest at Tuesday's parliamentary session. He is scheduled to meet with opposition leader Aung San Suu Kyi and the NLD central executive committee in Rangoon on Wednesday, said Nyan Win.
Quintana will also meet with other political parties that contested the general election last year, including the National Democratic Force (NDF) and Democratic Party (Myanmar), according to Khin Maung Swe, a spokesman for the NDF.
The UN envoy will spend five days in Burma. His current visit comes after Suu Kyi met Burma's President Thein Sein on Friday for the first time.
Quintana has been a vocal critic of the Burmese government and has previously proposed a UN Commission of Inquiry (CoI) to investigate war crimes and crimes against humanity that have allegedly been committed by the Burmese army in ethnic areas in eastern Burma.
Quintana said in an earlier statement ahead of his trip to Burma that his mission "takes place in a somehow different political context, with a new government in place since April," and said that his main objective is to assess the human rights situation from that perspective.
The UN envoy proposed the CoI in April 2010, and it is now supported by US, Canada, Australia, New Zealand and several EU nations.
Meanwhile, UN Secretary-general Ban Ki-moon said on Monday that he was encouraged by last week's meeting between Thein Sein and Suu Kyi, with both figures voicing satisfaction with discussions aimed at finding common ground on issues that would benefit the country.
The UN chief said he expects further steps to be taken toward achieving a sustained high-level dialogue focused on national reconciliation. He reiterated his call for the release of all political prisoners as a matter of priority to give an opportunity to all citizens of Burma to contribute to the promotion of national reconciliation and democratic transition.
https://equalitymyanmar.org/wp-content/uploads/2021/01/hr-n133.jpg
336
702
EqualityMM
https://equalitymyanmar.org/wp-content/uploads/2021/01/eqmm-weblogo.jpg
EqualityMM
2011-08-23 15:58:48
2021-01-22 15:59:29
Political Prisoners, Human Rights on NLD Agenda with UN Envoy