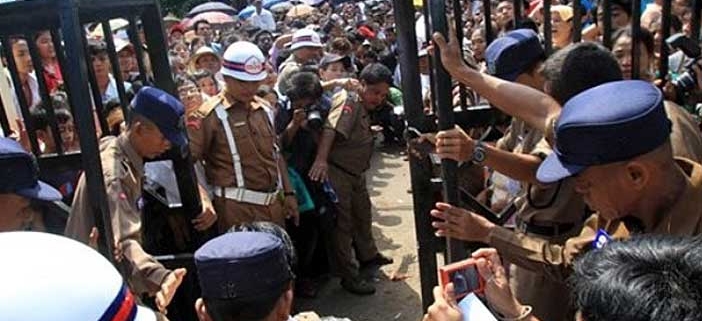 TUESDAY, 18 OCTOBER 2011 THE IRRAWADDY
The Irrawaddy – Burma only had around 600 prisoners of conscience and released almost half during last week's amnesty order, President Thein Sein's political adviser Ko Ko Hlaing told Swedish Radio.
Ko Ko Hlaing said accusations that there are 2,000 political prisoners in Burma were "an exaggeration," and the 300 political detainees that have so far been released by the president's amnesty order cannot be considered a small number. He added that he thought more will be freed in the near future.
However, in an interview with the Burmese language version of The Irrawaddy published on Monday, Ko Ko Hlaing claimed that he did not have exact figures for the number of political prisoners and advised reporters to contact the Ministry of Home Affairs.
Toe Kyaw Hlaing, an activist working on a petition campaign for the release of prisoners, said there is a huge disparity between the lists of political prisoners held by the Burmese government and human rights organizations.
He told The Irrawaddy that nearly 1,200 political prisoners still remain behind bars after last week's amnesty, according to the list compiled by the Burmese Democracy Network.
"The numbers of political detainees are different because the government uses the list of those who it has imprisoned on specific political charges," said Toe Kyaw Hlaing.
He said that in many cases the previous military regime did not charge activists with specific political offenses such as article 5(J) of the 1950 State Emergency Act and article 505(B) of the State Offences Act. Instead they were charged with the Electronic Act, immigration procedures, bomb plots, connections with unlawful associations, the Press Act, and so on. Therefore the official lists of current political prisoners in Burma may not be accurate, he said.
Toe Kyaw Hlaing also said that there might be a different definition between the government and political activists with regards the term "prisoners of conscience."
According to the definition used by human rights group Amnesty International, "prisoners of conscience" can refer to those who have been "imprisoned and/or persecuted for the non-violent expression of their conscientiously-held beliefs."
The Burmese government granted amnesty to 6,359 prisoners on Oct. 12—a full moon day at the end of the Buddhist lent when it is auspicious to perform acts of merit —but if did not make clear how many political prisoners were included in that number.
The Voice, a domestic journal based in Rangoon, reported on Monday that around 280 prisoners of conscience were among those who had been released last week.
Bo Kyi, the joint-secretary of the exiled Assistance Association for Political Prisoners (Burma), told The Irrawaddy that his organization was still compiling lists of political prisoners remaining in different prisons and those recently granted amnesty. This information will be issued publicly in the coming days, he said.
https://equalitymyanmar.org/wp-content/uploads/2021/01/hr-n130.jpg
336
702
EqualityMM
https://equalitymyanmar.org/wp-content/uploads/2021/01/eqmm-weblogo.jpg
EqualityMM
2011-10-18 15:55:26
2021-01-22 15:56:12
Only 600 Political Prisoners in Burma: President's Adviser