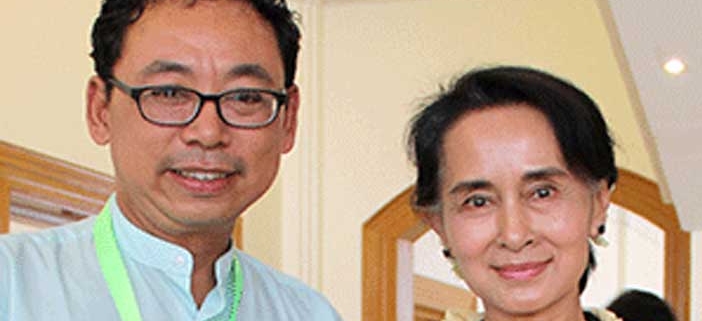 Aung Myo Min didn't imagine the path his life would take when he was a university student in the late 1980s. He thought he would lead a peaceful life as a college professor, not the turbulent life of a human rights activist.
A quarter of a century ago when the Burmese military brutally mowed down thousands of students, Myo Min couldn't resist the call to action. He ran away to the jungle and joined the armed resistance. There he fell in love with a fellow soldier, but their love wasn't accepted. His lover was sent to the frontlines to prove his manhood and was ultimately killed.
Myo Min's story of his life as a gay man fighting for human rights while living in exile in neighboring Thailand for 24 years and his triumphant return to Myanmar (also known as Burma) comes to San Francisco Bay Area screens in filmmaker Jeanne Hallacy's documentary, This Kind of Love .
"It was so painful for him that even his colleagues in the army couldn't accept the fact that he was gay," said Hallacy, a straight ally, about the fateful turning point in his activism. "What kind of democracy movement calls itself freedom of democracy if you can't even accept sexual identity as one of the things that is considered human rights?"
Myo Min put down his arms, choosing non-violence as the path to fight for human rights.
Hallacy and Myo Min started touring the U.S. with the film earlier this month, when it premiered at The Center in New York. It arrives in the Bay Area Thursday, September 17.
"The basic message of the film is human rights are universal," said Hallacy, 54, in a phone interview. "If you are going to take a stand for truth and justice you have to be certain that it's for everyone. There is no exclusion. It's for anyone and everyone."
It is this message that Myo Min, 49, brought back to Myanmar through his teachings about human and LGBT rights upon his return to the country after the military lifted its ban on democracy movement leaders in 2013.
On November 8, Myanmar will hold its first democratic election, but unrest remains in the Southeast Asian country.
LGBT rights are human rights
Myo Min is a popular speaker throughout Myanmar and abroad and he is the director of Equality Myanmar, an organization he founded in Thailand to educate people about human rights.
Homosexuality is illegal in Myanmar under Section 377, a British-era colonial law. However, while the law is rarely enforced by authorities, a strong prejudice against LGBT people remains. Many believe LGBT people can be converted to lead normal lives, Myo Min said in a phone interview. There are other laws that are imposed upon Myanmar's LGBT community, such as banning cross-dressing, which makes life challenging for transgender individuals, he added.
"We have been advocating for repealing this law but we haven't received any good response from the government," said Myo Min.
Added Hallacy, "This is a country that is completely and absolutely controlled by the military for over half a century and very shut off and removed from the rest of the world."
People in Myanmar didn't get access to the Internet until two years ago, but now people use social media to wage vicious anonymous attacks. Myo Min constantly is fending off life threatening homophobic assaults because of what he is teaching, she said.
"What he is doing is pioneering the first-ever LGBTI rights movement in the country," said Hallacy. She pointed out that many people in Myanmar don't know the term "LGBT" and many of these people have been, "sadly, targeted for horrific violence."
Myo Min said that he has been pleased by audiences' response to the film and his story. One of the things he wants people to take away from the movie is the humanity of LGBT people.
"LGBTs are also human beings and they are entitled to enjoy the human rights like other human beings," he said.
The U.S. tour is being sponsored by the American Jewish World Service, Global Fund for Human Rights, Open Society Foundation, and Partners Asia.
This Kind of Love will be showing in Berkeley, San Francisco, and Oakland. Admission is free to $10 depending on the event: September 17, 4 to 6 p.m. at the University of California, Berkeley, CSEAS Doe Library, Dwinelle Hall, 370 in Berkeley. For more information, contact cseas@berkeley.edu or (510) 642-3609.
September 18, 5 p.m. at City College of San Francisco, Mission Campus, 1125 Valencia Street in San Francisco.
September 20, 12:30 p.m. at the New Parkway Theater, 474 24th Street in Oakland, tickets are $10.
September 21, 6 p.m. at the Delancey Street Foundation Theater, 600 Embarcadero in San Francisco. This event is free, to reserve your seat contact https://secure.ajws.org/site/SPageServer?pagename=sf_event_0921_rsvp.
For more information, visit http://thiskindoflovefilm.org.
ORAM calls for U.S. to hold 500 spots for LGBT Syrian refugees
Following the White House's announcement last week that it will accept 10,000 Syrian refugees who have fled their homeland in 2016, a local LGBT group asked for some of those spots to be held for LGBT Syrians.
Neil Grungras, executive director of the Organization for Refuge, Asylum, and Migration, called upon the U.S. to hold 500 slots for LGBT Syrian refugees.
"We urge the administration to take a brave, bold step and for the first time set aside a target of 500 slots for LGBTI refugees out of the 10,000 announced yesterday," said Grungras, in a September 11 statement from the organization.
Last month, gay Syrian refugee Subhi Nahas detailed his experience living in and escaping Syria to the United Nations Security Council during a special LGBT Meeting.
Nahas resettled in San Francisco and now works for ORAM.
Grungras and Nahas estimate that there are at least 400 self-identified LGBT Syrian refugees who have fled to Turkey, which is a temporary host country. They suspect that there are thousands more LGBT Syrians who have escaped their homeland and who are in hiding in Lebanon, Jordan, and other countries.
For more information, visit www.oraminternational.org/en/.
Got international LGBT news tips? Call or send them to Heather Cassell at 00+1-415-221-3541, Skype: heather.cassell, or oitwnews@gmail.com.
https://equalitymyanmar.org/wp-content/uploads/2021/01/hr-n48.jpg
336
702
EqualityMM
https://equalitymyanmar.org/wp-content/uploads/2021/01/eqmm-weblogo.jpg
EqualityMM
2015-09-19 13:44:49
2021-01-22 13:45:53
Gay Myanmar human rights activist's story now a film